May 14 – July 1, 2023
Grisaille is the title of a painting by Miriam Cahn that was the inspiration for this project. At first glance, it may seem singular for an artist who does not claim to be historically inscribed in her artistic positioning; from memory, I do not know of any other title that references tradition in this artist's work, other than a rather theoretical allusion to the "classical" register.
From museums to exhibitions, lovers of Western art are inevitably confronted with numerous altarpieces presented with their panels open: it is therefore difficult, if not impossible, to read the outer panels in grisaille, and yet one can discern their ghostly presence, make the connection with the later developments of the technique, and feed our imagination.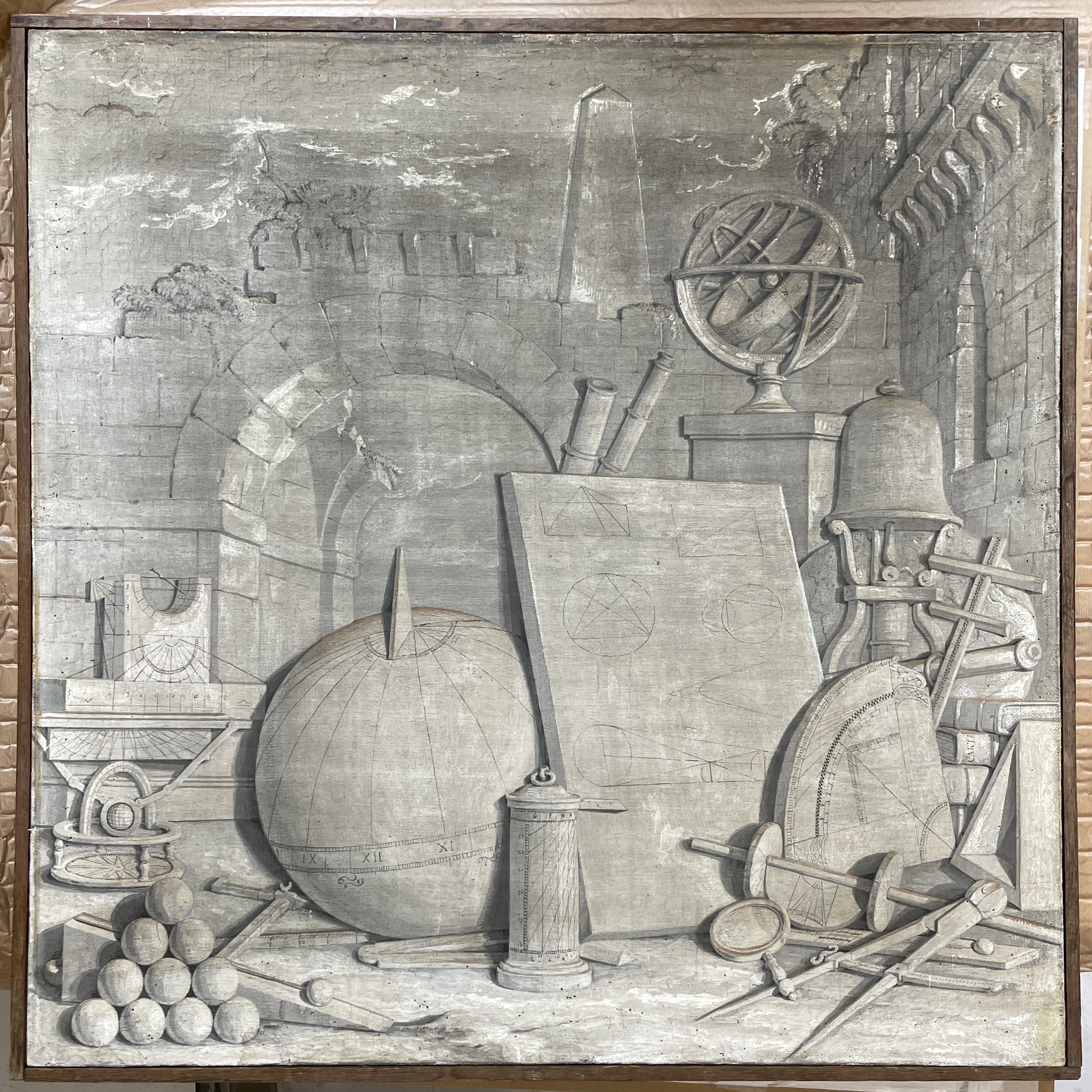 With the example of Miriam Cahn, or Gerhard Richter in his 1960s series, might there be a form of unconscious-grisaille operating in contemporary art, perhaps difficult to identify because it is embedded In a somewhat hackneyed painting/photography conversation?
As a specialist of both the history of art and Matthias Grünewald, but also deeply attached to the most contemporary forms of creation and to the artistic future of his students at the École des Beaux-Arts, François-René Martin seemed to me to be in a position to provide some answers to this question. To this end, he benefited from the support of Hélène Meisel in terms of research, and the assistance of three artists who were asked to take part in the exercise: Marc Desgrandchamps, Francisco Tropa and Achim Reichert (for the graphic design).
With Grisaille Vertigo, we are therefore continuing our work of exploration and research, as a direct extension of the L'Art d'Eugène Carrière exhibition (curated by Serge Lemoine), a master of brunaille, but also in resonance with our exhibition work comparing archaeology and contemporary art, which began many years ago.
With a bit of luck, a weather announcement on the radio on the morning of a day dominated by grisaille will immediately take us on a journey through the vertigo of art history and its multiple inter-temporal connection points.
Text by Jocelyn Wolff
With a selection of works by The Bentvueghels, Louis-Léopold Boilly, Moretto da Brescia (after), Colette Brunschwig, Miriam Cahn, Cavaliere d'Arpino (circle), Marc Desgrandchamps, Anna Hulacová, Jacques I Laudin, Pietro Morone (circle), Achim Reichert, Thomas Ruff, Piat Joseph Sauvage, Bernard van Orley (circle), Palma il Giovane (attr.), Jean II Penicaud (attr.), Hélie Poncet,Pieter Gerritsz van Roestraten (attr.), Jan van Scorel (circle), Francisco Tropa, Aby Warburg, Clemens von Wedemeyer & anonymous artists from the 16th to 19th century.
Curated by François-René Martin, PhD in political science and PhD in art history, Professor of general art history at the prestigious Ecole des Beaux-Arts de Paris since 2007, and research coordinator at the Ecole du Louvre, Paris. His thesis focused on Grünewald and his critics (16th-21st century), and he is currently working on artistic myths, historiographical issues and Ingres and Raphaël.
SPECIAL OPENINGS & EVENTS
26-27-28 May 2023: Paris Gallery Week-end
25 Juin 2023: "Conversations" with François-René Martin and Giancarla Cilmi →PROGRAMME