March 12 – May 6, 2023
Scenes from Behind: a title that invites us to take a step back.
Prinz Gholam is a duo of artists who have been working together since 2001. Their work hides as much as it reveals, superimposing historical, academic and media references. Although their common practice is based on performance, as a medium and process, their output is multidisciplinary, also including videos, drawings, photographs, and object installations. These artistic practices converge around a common approach of the body and the gesture. The spontaneity of movement is reflected in their performances as well as in their drawings and assemblages of stones. Their drawing work connects hybridity and the performativity of bodies. Since 2020, the artists have given a more important place to the drawings, with large formats of coloured pencil on canvas, where the figures gather, and seem to come alive in their environment. Some of these drawings are also related to other projects or performances, such as Now and the Past (2021) : having been a prefiguration, an exhibited work, it now is a remembrance of their project While Being Other, which was presented at the Mattatoio in Rome in 2021. Thus, these canvases offer spaces for simultaneous creation and the free expression of their choreographic repertoire. They become "fields of relationships" for the artists, in the same way as their performative actions. This creative spontaneity enables a spontaneity of the imagination. However, each work presents an assemblage of historical and media references, subjective, shared and concentrated, resulting from a long process of observation and dialogue. As both a personal experience of the body and highlighting an socially-constructed cultural imagination, the gesture encounters the construction of the image in Prinz Gholam's work, thereby questioning its paradoxical status.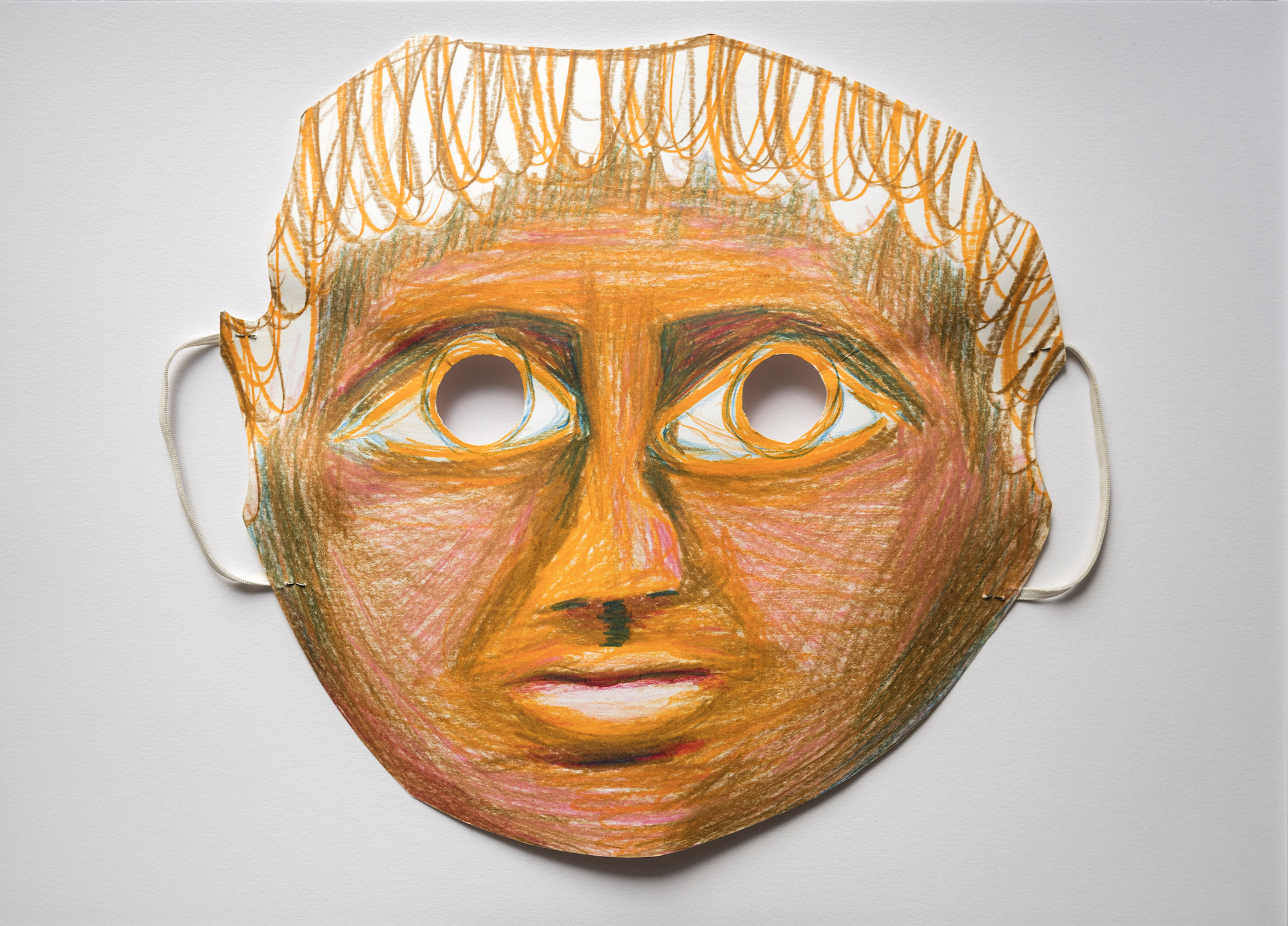 So the camellia flowers from the garden of Villa Aldobrandini are hidden between the bodies, behind the cloud of flowers in the Pavilion of Wild Pinks (2021) drawing, and the pyramid of Cestius appears in the middle of the architectural forms of Now and the Past (2021): two Roman remembrances captured by the artists. Behind the masks of characters or landscapes, inspired by the pandemic in 2020, and worn during the performances, we discover «accumulated information and inspiration,» as the duo puts it, the memory of the subject and the potential of a double, screens and interfaces. L'esprit de notre temps (video, 2020-2021) bears witness to this use of the mask and the relationship between the artists and their environment, here the Roman city. Finally, behind the assemblages of stones, whose titles often evoke their original site, the relationship of the artists to their environment is expressed once again, as well as a feeling of spontaneous recognition, a figural presence that crisscrosses their entire practice, between stylised bodies and carnivalesque faces. This imaginary projection by the artists reflects their embodied memory of the body and the subject, and, in so doing, a recognition of otherness, this "otherness [that] is experienced by passing through gestures, by an incorporation," when "bodies seem to seek a beyond-gesture in a confrontation with the elements of nature, objects, other bodies" (Anne Creissels, 2019). However, about it is less a matter of confrontation than of attention to external elements.
Scenes from behind is also a title that evokes another: Seen from behind. Perspectives on the Male Body and Renaissance Art (2018), a book by Patricia Lee Rubin which focuses on the analysis of an often-neglected motif, that of male buttocks in Renaissance art. These puns and references are a constant in the duo's work. They inspire its structure as well as its content, and are embodied by a formal modesty and an increasingly perceptible theatrical aspect in their work. So, if Rubin's book engages a perspective reversal and addresses the homoeroticism emanating from these canonical buttocks, Prinz Gholam's art is inscribed in this artistic and social hotbed that is close to them, between classical culture and queer perspective, but they do it light-heartedly. From creation to dissemination, they open up the image to spontaneous dialogues.
Text : Ana Bordenave